Advent | Activities | Christmas Day | Party | Twelve Days of Christmas | Books & Websites | Make an Advent Wreath
ADVENT
The purpose of Advent is to prepare for Christmas and to make the Christmas season a spiritually meaningful and joyous time.
General Guidelines:
1.  Plan ahead— preferably before December 1st.
Evaluate, read idea books, meet with family (or roommate, etc.).  Make specific plans.
2.  Try to get tasks such as shopping and major cleaning done before the beginning of Advent.
3.  Make Christmas a season, rather than a day. You may even want to use the words Advent or Christmastime when referring to the holiday(s).
4.  Put your energy, enthusiasm, and emphasis on the traditions and activities you and your family truly affirm and enjoy. If there are other activities in which feel you must participate, do them as simply as possible.
5. Create traditions.  Don't be intimidated by cultural or historic traditions if they aren't meaningful to you— Modify them, discard them, or adopt those you like from other cultures. Establish traditions for such things as devotional activities, annual events, readings, food, and decorations. Teenagers will more willingly participate in activities if they are traditions.
There are many traditions the Stockman family developed over the years, but one activity transformed our Christmas observance. This was a simple daily family worship time focused on reading the story of Jesus' birth, a little at a time, in a handmade book designed like an Advent calendar. Ours used Christmas cards for pictures of Mary, Joseph, the angels, etc. (We did find a card with Elizabeth & Mary, but never one of Herod.) For over twenty years, we have been reading this Christmas story almost every night during the month of December, along with lighting Advent candles, singing a carol, and praying. God eventually led us to start sharing the ideas which we gathered and researched and then to publication of The Advent Book, first by Crossway Books from 2000-2007, now by us.
The published version of The Advent Book  (Click Here)
Advent Candles & Wreaths
Advent candles may be any color. The most traditional choice is three purple and one pink candle. Purple is the color of repentance, an appropriate attitude when preparing for Christ's coming. The pink candle represents joy and typically is lit on the third Sunday. White candles, which we use, are also common. The center Christ candle usually is white regardless of the colors of the other candles. Over the years, Christians have assigned various meanings to the Advent candles. Here are some examples.
First Candle: Prophets, Faith, or History
Second Candle: Angels, Joy, or New Birth
Third Candle: Shepherds, Love, or Jesus' Second Coming
Fourth Candle: Wise Men, Hope, or Peace
Our family gives each candle two meanings. We call the first candle the Prophets candle, and it represents faith. The prophets had faith that the promised Messiah would come. The second candle is the Angels candle; it signifies joy. The news the angels told brought joy. The Shepherds candle, our third, is associated with love because the shepherds went to worship Jesus, who is love. Hope is the significance of the Wise Men candle, our fourth. The Wise Men from the East remind us that Jesus was sent not only for the Jewish people, but for every nation.
This is the basic format we use for family worship during Advent: We acknowledge the meanings we've given to the Advent candle(s) and light the appropriate one(s); we read the pages of The Advent Book, beginning with Day 1 and ending on the current date; we sing a carol, pray, and blow out the candle(s), again acknowledging the meanings we've chosen. We also enjoy extending our worship time as often as possible, reading an additional story or Scripture passage, singing more carols, and finishing up with hot chocolate and cookies.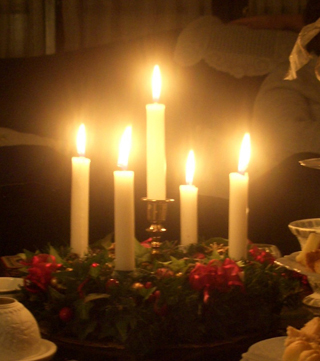 We light a fifth candle on Christmas Eve. It is placed in a candleholder in the center of the wreath. We like to use a holder that is several inches tall so that the center candle, which represents Christ, stands higher than the rest.
We recommend using high quality tall candles if you plan to burn them often. We keep ours burning every evening during the entire family worship time and the first candle is sometimes only about an inch tall by Christmas Eve!
Our Favorite Activities for the Celebration of Christmas
MORE IDEAS FOR THE ADVENT SEASON
One alternative to an Advent wreath is an Advent log, which is a real log with twenty-four evenly spaced holes drilled in which to place candles. You light a new candle each night starting from the outside ends and alternating left and right sides each night.  As in the traditional wreath, you relight each candle that was already lit.  The candles will eventually come to form the shape of a Christmas tree if they are lit for approximately the same time each night. You could assign a designation or meaning to each candle if desired.
Give children a nativity set to play with or let them have a new figure to put out every day. (If you do it every day, you'll need to use lots of sheep, shepherds, angels, etc.) Have Joseph & Mary and the wisemen figures "travel" a little bit closer to the stable every day. Start Joseph and Mary out in a nearby room and have them arrive on Christmas, when you can give the children baby Jesus to place in the manger. The wisemen can start out from a garage or basement, arriving at the manger on Epiphany (January 6th), which commemorates the day the Magi visited Jesus.

Playmobile Nativity Set
Decorate with Jesse Tree ornaments, symbols of important events and/or people in Biblical history from creation to Jesus' birth. You can order Jesse Tree ornaments on Etsy.com or buy the book, The Greatest Gift by Ann Voskamp and download ornaments to print and cut out. (One Etsy option: Jesse Tree Ornaments by InspiredTraditions — See picture below.) Both of these resources come with readings. You could also read One Wintry Night, written by Ruth Bell Graham and illustrated by Richard Jesse Watson.
Another custom we've always liked is to choose one Christmas card to read each day at dinner and pray for the sender(s). If it's someone like an out-of-town relative or an old college roommate whom your children don't know, tell them about the person— especially if you have some funny or interesting memories. Even if you do not send out dozens of Christmas cards, consider sending a card along with a letter and prayer for that person or family to people you know might especially need or appreciate a greeting this season.
Listening to Christmas carols throughout the day always lifts our spirits. We especially enjoy listening to playlists that we created years ago, which not only allow us to hear our favorite songs again and again, but brings back warm memories. If you don't have a personal Christmas playlist, we recommend you create one during this Advent season.
Have a "Silent Night" — no TV, CD's, radio, video games, computer, etc. Meditate, read, pray.
Compile a special library of Christmas books to reread each year. Some parents wrap up all their books every year and let the children unwrap one every day. On Christmas Eve, have a new book to be opened.
Have dinner in front of the Christmas tree one evening. You can set up a card table, use TV trays, or just have finger food such as pizza. Play Christmas music or watch a Christmas movie.
CHRISTMAS
Christmas Day for the Stockmans always spent with Kathy's family, most of whom live nearby. Over the years, we established many traditions. One that we feel has been particularly meaningful is a Christmas pageant performed by the cousins. It was first produced by the moms, Kathy, Mary, and Julie, but as the kids got older, they took on more responsibility. Each year we chose a retelling of the birth of Jesus from a different point of view, usually inspired by a children's book, which we then turned into a script. Occasionally we were lucky enough to find an appropriate play and adapted that script to the number and ages of our children. We videotaped the plays ahead of time and watched them on Christmas Day, along with at least one or two tapes of past plays. Now that the "children" are adults, we no longer make plays, but have at least a dozen of their plays on a DVD that we still enjoy watching.
We also had mini Christmas recitals. In what was a fortunate fun tradition, most of the girls in the family chose to become flute players and the boys, trumpet players. (A few played drums too, but (un)surprisingly, we didn't feature them on Christmas.) We enjoyed the special music—especially after the musicians had benefited from a few years of lessons!