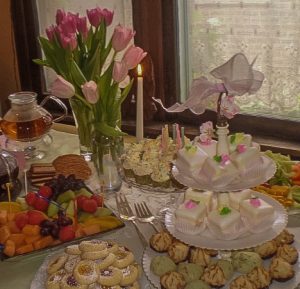 The 3 tiered serving plate was made by Kathy's dad and is a family heirloom.
PARTIES!
Chicago just had its cloudiest January in over 25 years and it's not getting better quite yet. For those of us still experiencing winter, February and March are great times for parties!
Here are three party plans we have personally tested:
PICTURE SHOW
Invite each guest or family member to e-mail you about a dozen digital pictures. They can be from vacations, childhood, college days, or special events like a wedding. Put together a slide show using a program like Power Point or iPhoto and show it at the party by connecting your computer to a TV. The guests can talk about the pictures as you show them.
PROJECT PARTY
Accomplish a goal while having fun and getting to know people better. Make sure everyone works with at least one other person and have lots of good food available before, during, and/or after the work time. Suggestions for projects:
A work day at the home of a friend, family member, senior citizen, or someone in need~ Washing windows, cleaning out a basement, painting rooms & furniture, weeding, and washing patio furniture are some possible projects.)
Group cooking, painting, or crafting with jewelry or cards~ Helps to have an expert on hand!
PROGRESSIVE DINNER
Organize friends from your neighborhood, condo/apartment building, church, or MOPS group to host a progressive dinner at three or four homes. Guests can help hosts provide appetizers, soups or salads, a main course, and dessert. During each course, have a different question for discussion. Some examples are: "What are you 'a natural' at doing?" "What is something you've always wanted to try, but still haven't?" "What is the most surprising thing that has happened in your life in the last decade?"