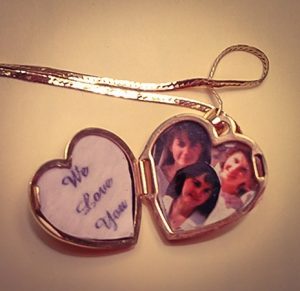 Special Gifts
Women to Women
For my daughter Kaidrea's 16th birthday, her grandmother, all three of her maternal aunts, and I took her out for a special lunch. On that occasion, her aunts gave her this locket with their pictures in it. Almost twenty years later, she still wears and treasures this gift. I am extremely grateful that my sisters care so deeply about my daughter. They have taken her on outings and trips, spent time working on projects, and encouraged her by praying for her, giving her advice, and supporting her endeavors.
Knowing how important mentoring women have been in my own life, I want to encourage you to be intentional about developing relationships.
Here are 5 W's that may help you:
WHO
Who will God put on your heart to connect to?
Girls and younger women, do not hesitate to ask an aunt or older woman in your church to spend time with you.
WHAT
What traditions can you establish? ~ What can you do together?
In addition to hanging out and phone calls or texts, consider activities such as a shared hobby, service project, movie nights, monthly cookie baking, a Bible study, or book discussion.
WHEN
Make a commitment for connecting on a regular basis.
I would suggest once a month if possible. If your connection is going to be between two people who see each other frequently, it's almost even more important that special times be scheduled
WHERE
Don't forget video chats if getting together isn't possible ~ Grandmothers & granddaughters, out of states aunts & nieces, mentors & college students… Set up a standing virtual date.
WHY
Proverbs 27:17 says "As iron sharpens iron, so a friend sharpens a friend." As you are intentional about spending time with others, you will create lifelong memories, enrich one another, grow and strengthen each other, and help one another other become the women God created you to be.